2020 Costume Contest Saturday & Sunday 3 PM
Application for the Costume Contest will be available at the site. Cost is $5 per entry
Categories this year are:
Group/Family
Couple
Female
Male
Child
Gadget
Best use of Theme
Compete or watch this competition of the finest costumers on the Main Stage!
Saturday and Sunday at 3 PM (to participate please sign in with your name, character/costume description, what you made, and $5 at the entrance on 'A' Street.)
Deadline to enter the contest is 2 PM each day.
Check out some of our previous entries and costuming tips below!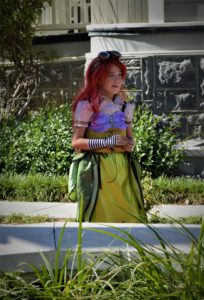 Steampunk events are all about the costumes. So how do you capture the perfect steampunk look? Here are seven tips to follow:
1. Remember, you are not a re-enactor:
If you want to be completely historically accurate, that's fine, but steampunk is all about subverting the historical aesthetic.
Don't sweat the thread count or the fact that your buttons feature an insignia that was created in the 1950s.
If someone pesters you about it you even have an easy answer: You're a time traveler. All problems solved.
2. Don't get locked into the Victorian England box:
Embrace your inner cowboy or branch out as an Asian pirate and bid those Europeans adieu.
3. Haunt the thrift stores:
A lot of steampunk ensembles are composed of multiple thrift store finds. Thrift stores are the go to, so frequent your Salvation Army, you'll never know what you may find.
4. Don't shy away from a sewing machine:
Yes, needle and thread can seem a bit daunting, but sometimes you gotta face your fear.
5. There is no such thing as "too" much:
You know how people say 'Look at yourself in the mirror and take something off?' Well, in steampunk, it's look at yourself in the mirror and add another thing.
6. Traditional fashion rules do not apply:
Typically, mixing and matching a wide variety of fabrics is a big no-no. In steampunk; however, it's a huge yes-yes.
Mixing fabrics and patterns adds a quirky element to your dress that fits the steampunk vibe.
7. Get resourceful:
One man's trash is another man's treasure. It's clichéd, but true – especially when it comes to steampunk.
Those 2-liter soda bottles you just emptied? Put some paint on them and you've got a jet pack (okay, there may be a few more steps than just paint).
Besides, old watches are perfect for spicing up your outfit with little gears and whatnot. So, before you throw something away, think first – could this be steampunk'd?